Alvin: Dagger!

Simon: Flame!

Theodore: Brutus!

All three: Spider out!

[Out of their manacles come their Battle Spiders]

Hunter: Arachna Power!

[He gets suited up]

Corona: Arachna Power!

[She gets suited up]

Aqune: Arachna Power!

[She gets suited up]

Lumen: Arachna Power!

[He gets suited up]

Sparkle: Arachna Power!

[She gets suited up]

Simon: Arachna Power!

[He gets suited up]

Theodore: Arachna Power!

[He gets suited up]

Alvin: Arachna Power!

[He gets suited up]

Hunter: Courage of the Oracle! Spider Rider Hunter!

Corona: Charity of the Oracle! Spider Rider Corona!

Aqune: Strength of the Oracle! Spider Rider Aqune!

Lumen: Stealth of the Oracle! Spider Rider Lumen!

Sparkle: Speed of the Oracle! Spider Rider Sparkle!

Simon: Knowledge of the Oracle! Spider Rider Simon!

Theodore: Honor of the Oracle! Spider Rider Theodore!

Alvin: Might of the Oracle! Crimson Rider! Spider Rider Alvin!

All eight Battle Spiders: Spiders by their side...

All eight Spider Riders: ...ready to ride!

Hunter: Calling all...

All eight: Spider Riders!

Layla: Gladiators, ready?!

Sora, Rosetta, Marion, May, Brittany, Mia, Anna, Sarah, and Pamela: Ready!

All 10: Kaleido Power!

[They all get suited up]

Layla: K-1! Golden Phoenix!

[The cry of an phoenix is heard]

Sora: K-2! Angel of Hope!

[Angelic sounds are heard]

Rosetta: K-3! Diabolo Fairy!

Marion: K-4! Aqua Blossom!

May: K-5! Demon Blader!

Brittany: K-6! Dove of Dreams!

[The cry of a dove is heard]

Mia: K-7! Platinum Pixie!

Anna: K-8! Geo Jester!

Sarah: K-9! Lorikeet of Love!

Pamela: K-10! Ivory Eagle!

[The cry of an eagle is heard]

Layla: Where there is life, there is a heart of justice!

All 10: Kaleido Gladiators!

Godou: Let's get crackin', guys! [unleashes his Golden Sword] Golden Sword!

Erica: [unleashes her sword] Cuore di Leone!

Liliana: [unleashes her sword] Il Maestro!

Ena: [unleashes a replica of her sword] Grasscutter!

Yuri: I may not have any magic abilities for combat, but I can still kick these creeps' asses!

Hikari: Count me in, Sis.

Shizuka: Ditto.

Lucretia: If I could help beat an army of violent robots, I can help beat this army even more easily.

[Brave Blade is heard in the background]

Robertson: Attack!

[She and her army charge at the gang, who fights them back over the next two minutes]

Layla: I'll handle the ArgoStars. MechaPhoenix, deploy now!

[The MechaPhoenix flies into the scene; Layla flies into the cockpit]

Layla: Phoenix Missiles, fire!

[The MechaPhoenix fires multiple missiles at the ArgoStars, hitting them]

[Cut to the cockpit]

Layla: [inserts her Kaleido Booster into the controls] Let's see what this Kaleido Booster can do here. [inputs code] 4-9-7! MechaPhoenix, Aerial Ace!

[Outside, the MechaPhoenix strikes four ArgoStars w/Aerial Ace, destroying them]

Lumen: Leave the Maggotanks to the Cyber Spiders. Cyber Spiders, mobilize!

[The Cyber Spiders crawl into the scene]

Lumen: Autopilot engaged! Web formation, now!

[Outside, the Cyber Spiders surround the Maggotanks and fire giant webs at them, but the tanks break through]

Lumen: Fighter Mode, activate!

[The Cyber Spiders convert to Fighter Mode]

Lumen: Twister formation!

[The Cyber Spiders join hands, jump up, and spin around like a tornado; five of the tanks get caught in the tornado; after the tornado clears, the tanks are still in mid-air]

Lumen: Now, Layla!

Layla: Phoenix Finisher!

[The MechaPhoenix converts to firebird mode and strikes the mid-air tanks, destroying them]

[Seven Demonitron charge at Corona and Erica from the sky]

Erica: [takes to the sky] Fly, Boots of Hermes!

[She strikes down three of the Demonitron w/her sword]

Corona: [fires arrows at the other four Demonitron] Arrow of Light!

[The four Demonitron get struck and hit the ground]

Erica: Nice marksmanship, Corona.

Corona: [gives a thumbs-up signal] Happy to help, Erica.

[Suddenly, five more Demonitron charge at her]

Aqune: These are mine, sis! [strikes them w/her sword] Violet Strike!

Liliana: Me, too! [strikes the same five Demonitron w/her sword] Gladijatori, spreman?!

[Subtitle: Gladiators, ready?!]

Gladiators (sans Layla): Ready!

[The 10 of them fight more Demonitron w/their weapons]

Brittany: [inputs a code on her Kaleido Booster] 4-1-0! Metatron, Mal'akh!

[She gains Metatron's wings and strikes a long line of Demonitron w/her blade in double speed]

Brittany: Artelif! Crown Cannon!

[Metatron's pillars take on a circular formation and fire a beam of pure light at the same Demonitron she struck, hitting them all]

Brittany: You're up, Ena!

Ena: Right!

[She strikes the same Demonitron Brittany fought w/her sword]

Pamela: [fires arrows from her crossbow at the line of Demonitron] Ivory Crossbow!

[The Demonitron each get struck one by one]

Pamela: [inputs code] 4-1-0! Michael, come forth!

[Mukuro Hoshimiya's Angel: Michael (a key) appears in Pamela's hands]

Pamela: Shifuru! Release!

[The key transforms into a Halberd-esque weapon, which she uses to strike down five oncoming Demonitron]

Pamela: No Demonitron can withstand the might of Zodiac.

May: Now let's give 'em their worst "Nightmare". [inputs code] 4-1-0! Zafkiel, come forth!

[Kurumi Tokisaki's Angel: Zafkiel (in the form of a musket and flintlock), appears in May's hands]

May: [points the flintlock at the 7 on Zafkiel's clock] Zayin! [fires the Seventh Bullet from the musket at an oncoming Demonitron] So long!

[The Demonitron freezes]

May: [skates past the Demonitron while firing a barrage of bullets at them] Say your prayers!

[The Demonitron all get struck down]

May: [strikes four more w/her trident] Demon Trident!

Sora: [inputs code] 9-0-4! Sword Birth!

[Multiple swords pop up from beneath the ground on which seven Demonitron stand, striking them]

Rosetta: [inputs code] 9-0-4! Ring out thunder!

[A magic circle appears overhead; lightning strikes multiple Demonitron]

Anna and Mia: [input code] 9-9-5! VR Laser Pistols!

[The VR Laser Pistols appear in their hands]

Anna and Mia: Unifocus Firepower!

[They fire at four of the Demonitron, hitting them]

Marion: [inputs code] 8-1-9! Digimon mode! [unleashes a flaming wheel] Dragon Wheel!

[The Dragon Wheel strikes another line of Demonitron]

Sarah: [inputs code] 8-1-9! Digimon mode! [unleashes a cold blast at the same line of Demonitron] Ice Blast!

[The targeted Demonitron freeze solid]

Liliana: Sarah, 5:00!

[Sarah notices five Demonitron approaching her at her 5:00]

Sarah: [strikes the approaching Demonitron w/her Lorikeet Flute (in blade mode)] Right!

[She notices two more Demonitron jumping down towards her from a nearby tree]

Liliana: I'll fix 'em for you!

[She jumps up and strikes the two Demonitron down w/Il Maestro]

[Lumen, Sparkle, Jeanette, Eleanor, Lucretia, Shizuka, and the Mariyas fight another dozen Demonitron]

Yuri: Give up, Demonitron!

Hikari: You can't beat us!

Lumen: Blade of Lightning!

Sparkle: Tornado Spin!

[They strike the Demonitron w/their weapons; four of them charge at Lucretia]

Lucretia: [casts a spell] Flight! [gains wings and dodges the Demonitron; unleashes a blast of black magic on the same four Demonitron] Take this!

[The four Demonitron get struck and hit the ground]

Yuri: [casts a spell] Spirit Pacification!

[Five of the Demonitron fall into a deep sleep and hit the ground]

[Five more Demonitron unleash bursts of flames at Hikari]

Hikari: [casts a spell] Disaster Purification!

[Her spell douses the flames, confusing the Demonitron]

Shizuka: [kicks the five Demonitron to the ground] Nothing like easy targets!

[Jeanette and Eleanor each kick one of the Demonitron to the ground hard]

[Godou and the Chipmunks fight Robertson]

Godou: You choose to use that ridiculous unit for crime, and because of that, you'll never win!

Alvin: Especially when you're outnumbered!

Robertson: [strikes Godou w/her Red Rapier] One CDG unit is far superior to the combined might of three Spider Riders and one so-called godslayer!

Godou: [strikes back w/his sword] Oh, yeah?! From what these kids told me, you could die from using too much of that unit's power!

Robertson: That may be true, but thankfully, my body's got enough stamina for extra use of this contraption! Magma Missiles, fire!

[She fires Magma Missiles at the gang]

Simon: Fire Bolt!

[He blasts 1/3 of the missiles to smithereens w/his attack]

Theodore: Morning Star!

[He smashes another third of the missiles to smithereens w/his mace]

Alvin: Blade of Lightning!

[His blade fires bolts of lightning at the last third of the missiles, blasting them to smithereens]

Robertson: [tosses her rapier at the gang] Take this, fools!

[Suddenly, Athena appears in the line of fire]

Athena: A scoundrel such as you will never triumph!

[She assumes her true form]




Alvin: Whoa! They grow up so quickly!

Simon and Theodore: This is the real Athena?!

Godou: Yep.

[Athena fires an arrow at the rapier, destroying it]

Robertson: You're a goddess?!

Athena: And don't you forget it!

Alvin: Hunter!

Hunter: [joins in; tosses Alvin an Oracle Key] You got it, Alvin!

Hunter and Alvin: [each raise an Oracle Key] Oracle's Light!

[They and their Battle Spiders convert to Oracle Mode Level 1]

Hunter and Alvin: Spider Riders!

Hunter and Shadow: Electra Twist!

[They strike Robertson w/their attack]

Alvin and Dagger: Crimson Starlight!

[They fire their attack at Robertson, hitting her]

Athena: Woman, have you no contrition for your sins?

Robertson: Shut up, goddess! [charges at Athena] You'll pay for interfering!

Athena: [fires multiples arrows at Robertson, the ArgoStars, the Maggotanks, and the Demonitron] Stubborn fool.

[Robertson gets struck by some arrows, causing her unit to start to short-circuit; other arrows strike the ArgoStars, Maggotanks, and Demonitron, destroying them]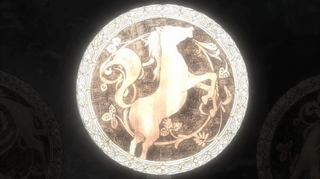 Godou: Come to me, for the victory! Immortal Sun, lend me a quick, shining steed! Fire of the Sun that dispels the dark, may it engulf you!

[Emerging from the sun is a giant burning horse, which charges at Robertson, hitting her hard; Robertson screams, falls to the ground, and a massive explosion is shown; after the smoke clears, Robertson gets back on her feet, her unit and dog tag destroyed]

Robertson: [exits the scene] You win this time! But it's still too late! The Eye of Selene is as good as found by now, so I'd advise you to flee!

[One of Temper's demonic circles appears; Robertson jumps through it; the circle disappears]

Athena: She might be right, friends. I recommend we keep our guard up, for if Selene is set free, she will know of our whereabouts.

[Back at the digging site, LN has successfully cut a large hole in the metal wall; she crawls through the hole into the bank vault]

LN: Ah, the bank vault.

[Voban, Stelio, and Dimitri follow her]

Voban: Ahh.

Stelio: Oh, my God! You're incredible! Dimitri, where's the box?

Dimitri: [points at safe deposit box 6842] Right here. LN, can you open it?

LN: [transforms her right index finger into a lock pick] Easily done.

[She picks the lock, then opens it; Dimitri extracts the steel box from inside]

Dimitri: Now, open this baby. But carefully.

[LN picks the box lock and opens it, revealing the Eye of Selene; everyone gazes at it in awe]

Stelio: The Eye of Selene. At last.

LN: [takes the gem] Just what my masters need.

Stelio: [grabs the Eye of Selene] Whoa, whoa, whoa. You didn't say anything about your masters before. I'd say you're just using us to get this baby for your masters for your own gain.

LN: If I had told you, there would have been a bloodbath. Not that I bleed, anyway. Now, hand over the Eye of Selene!

Voban: [as his eyes glow green] Never!

[He transforms himself into a werewolf]




LN: What are you, the Wolfman?!

Voban: [lunges at LN] You vicious traitor!

[He slashes LN repeatedly with his claws, until Stelio and Dimitri pull him back]

Stelio: Voban, easy!

Dimitri: She's had enough! Now, let's get the drill and head for Central Park.

[Voban reverts to normal]

Voban: Very well.

[He and the other two get in the drill and dig their way to Central Park, leaving LN behind]

LN: [groans] You'll pay for this, Voban. Sir Mechike, Lord Prescott, I've been ambushed. Voban and his cronies made off with the Eye of Selene.

Mechike: [through her radio] It doesn't matter. As long as Selene is released, we will have won, anyway. Right now, return to the Nickar at once.

LN: Yes, sir. [disappears]

[Back at Central Park, the massive drill pokes through the lake in front of the gang; out of the drill's cockpit come Voban, Stelio, and Dimitri]

Godou: You again!

Voban: Godou Kusanagi, we meet again.

Alvin: That old guy is this Voban fellow you were talking about?

Erica: His name is Sasha Dejanstahl Voban, the oldest campione.

Liliana: He's over 300 years old, but numbers mean nothing to him. [points her sword at Stelio and Dimitri] And you two!

Stelio: Oh, look, Dimitri. It's that Croatian bitch who kicked us outta the warehouse two nights ago.

Hunter: Who's the guy next to Stelio?

Sora: [looks up Dimitri's rap sheet on her iPhone] Dimitri Bodak. Got popped by narcotics for possession in 2011. Did a year in Sing Sing, then four years probation. Been clean since, until now.

Ena: [points at the Eye of Selene in Stelio's right hand] So that's why you tried to rob us, eh? You wanted the Eye of Selene.

Stelio: Oh, this? Well,...

Alvin: [steps forward] Stelio, you conniving con man.

Stelio: Alvin?! A Spider Rider?!

Alvin: I had a feeling your little cancer claim was all a scam. You wanted out so you could get back at ACME for foiling your get-rich-quick scheme four years ago.

Stelio: You don't understand. That guy's money was supposed to be mine.

Simon: [steps forward] Well, you're never gonna see a penny of it.

Theodore: [steps forward] Besides, he never intended to leave it to someone who was only a relative by temporary marriage.

Stelio: Oh, hell, no! You guys, too?!

Dimitri: Forget it. We can take 'em, no matter what, as long as we have the Eye of Selene.

Stelio: [hands Voban the gem] Here you are, Voban. Do your thing.

Voban: [raises the Eye of Selene] After all my years of searching, the tremendous powers of mythical Eye of Selene are now mine! Prepare to meet your doom, Kusanagi!

[Suddenly, the gem starts to glow red and electrify]

Voban: Wait! What's happening?!

Athena: You foolish thieves made a grave mistake stealing the gem. It may not only cost you your lives, but the lives of countless others!

Voban: No!

[He drops the gem; the gem unleashes a flash of red light; emerging from the flash is Selene herself (played by Idina Menzel), with one covered eye]

Godou: [gasps] It's her!

[He has a flashback of his nightmare]

Godou: It's the goddess from my nightmare!

Athena: Selene, Goddess of the Moon.

Selene: Who dares disturb my slumber?! My eye must never fall into the wrong hands. [stares at Voban, Stelio, and Dimitri] Was it you?

Stelio: Don't look at me!

Dimitri: Me, either! [points at Voban] It was all his idea!

Voban: Setting you free was not what I had in mind. All I wanted was to harness your powers. I wanted to use it to help my young friends here destroy ACME.

Stelio: [cringes] Oh, crap.

Selene: Well, why don't I just do you a small favor and destroy them myself, whoever they are?

Godou: Hey, Selene!

[Selene turns to Godou and his group]

Godou: If you wanna go through ACME Crime Net, you gotta go through my team first!

Selene: Oh? What would mere youths do to me?

Godou: We're no mere youths. [looks at Erica, Yuri, Hikari, Liliana, and Ena] These girls are the loyal servants of the seventh campione and the godslayer: Me!

Selene: You? A godslayer? [laughs] You really slay me.
[sings to the tune of I'm Greedy by Clive Revill] Yooooooooooooou kill me.
Really kill me.
A simple boy like you can make me laugh.
You say you're the godslayer.
But you'd better say your prayers.
Because I plan to cut your soul in half!

You kill me.
You're so silly.
Humor must be one of your few good traits.
But don't think I believe you.
Soon, your harem will all grieve you
once you submit to your fate.

I don't hide it. I flaunt it.
When I see chaos, I can't help but want it.
Don't make me laugh. I can see through you.
You don't want me to make your harem cry, do you?

Yooooooooooooou kill me.
Really kill me.
Spin me, spin me, spin me some more yarns.
Now, doom is what I've always longed for.
It's what I sing this song for.
It's doom that makes me evil to the core.

Oh, great Hades, underworld's deity,
stand aside, 'cause taking the lead is me!

You kill me.
You're so silly.
Nothing you can do will stop me now.
I surpass my brother Helios
and my sister Eos.
You can't beat me, even with your loyal cows.

I'll bask in glory
when it gets gory.
Sorry, boy, but you're off to purgatory.
Your corpse will be hoary.
It's mandatory.
And when I'm through, I will be the star of this story.

You kill me.
You're so silly.
But your jokes will never outwit me.
With my charm so rare,
I am way beyond compare.
And a goddess like this is nothing you will be.
Time to bring you to an end.
Your valiant soul, I will rend.
I'm not playing silly.
No, but still, he...
does kill me!

[She laughs maniacally, grabs the gem, and attaches it to her right eye socket]

Stelio: Nice pipes. She oughta get a role in a Disney movie.

[Dimitri nods]

Selene: [her right eye glows; unleashes dark energy to the sky] Today, you all meet your end!

[The sky darkens]

Stelio: Whoa.

Selene: To repay you three foolish mortals for setting me free,... [casts a spell on Voban, Stelio, and Dimitri] I'll grant you this!

[Voban assumes his werewolf form and gains demonic Ancient Greek-esque armor; Stelio and Dimitri each gain the same armor]

Selene: [gains a scepter with a crescent moon on its head] I'll deal with the so-called godslayer and his harem. You three deal with his little friends, my Crescent Cavaliers.

[Cut back to the Nickar]

Prescott: Argon, give those three "Crescent Cavaliers" a boost.

Argon: Command received, my lord. [third eye glows]

[Cut back to Central Park; a red beam from the sky hits the Crescent Cavaliers, making them all grow giant-sized]

Stelio: Now this is more like it. As for that wretched drill, I have no more use for it.

[He crushes the drill with his right foot]

Selene: Well, well. You three will make short work of those little mortals easily.

Hunter: I wouldn't count on that!

All eight Spider Riders: Arachna Super Power!

[They all merge with their Battle Spiders and convert to Super Mode]

Super Spider Riders: Super Spider Riders!

Hunter: Super Spider Racers, mobilize!

[The Super Spider Racers enter the scene]

Hunter: Spider Caesar, begin transformation!

Lumen: Thunder Spider, begin transformation!

[The Super Spider Racers combine to form the Spider Caesar; the Cyber Spiders combine to form the Thunder Spider; Hunter, Corona, and Aqune jump into the Spider Caesar's cockpit; Simon, Theodore, Lumen, and Sparkle jump into the Thunder Spider's cockpit]

Alvin: Flash Formosa, mobilize!

[The Flash Formosa enters the scene and converts to Fighter Mode; Alvin jumps into the cockpit]

Layla, Rosetta, Marion, and May: KaleidoBorgs!

Sora: MechaSwan!

Brittany: MechaDove!

All six: Deploy now!

All 10 Gladiators: Begin Mega Star Borg Transformation!

[The KaleidoBorgs, MechaDove, and MechaSwan enter the scene and combine with the MechaPhoenix to form the Mega Star Borg; the Gladiators fly into the cockpit]

Voban: You two deal with the Spider Riders' robots. I'll handle the Mega Star Borg.

Stelio: Good plan. Alvin's bot is all mine. He wants me, he's got me.

[He fights the Flash Formosa; Dimitri fights the Spider Caesar and the Thunder Spider; Voban fights the Mega Star Borg]

Dimitri: Why do I have to get stuck with battling two?! I'm outnumbered here!

[The Thunder Spider strikes Dimitri w/its Thunder Blade]

Voban: Just deal with it, Dimitri! [punches the Mega Star Borg] Those pieces of trash are weak, compared to the ones we're fighting.

Brittany: Weak?! How dare you! Six-Wing Flash!

[The Mega Star Borg's wings glow brightly; they fire a flash of colorful energy at Voban, who shields himself w/his arms]

Alvin: Stelio Zappas, you scumbag. You've learned nothing from your last scheme. You should know that since you first went to jail, I came a long way.

[The Flash Formosa strikes Stelio w/its blade]

Stelio: I may not have learned a thing from my past crimes, but I've learned a lot of fighting skills in prison before I thought of the escape. [jumps up and spin-kicks the Formosa] Like this!

[The Flash Formosa hits the ground]

Stelio: [whips out a sword from the scabbard on his back] And this!

[He whacks the Formosa on the head w/his sword]

Stelio: Since your cockpit's in the head,...

[He raises his sword and is about to impale the Formosa's head with it, when the Formosa intercepts w/both hands]

Alvin: [kicks Stelio in the gut] Sorry, pal, but just because you improved over the years doesn't mean I haven't. Flash Flare!

[The Flash Formosa fires a flash of flares at Stelio, hitting him]

[Cut back to the ground; Erica, Liliana, and Ena charge at Selene w/their swords]

Selene: [erects a forcefield around her] Back off, maggots.

[The three girls get pushed back]

Selene: [unleashes dark energy from her right eye] My power is limitless! Die, all of you!

[Her dark energy takes the form of deadly slime-based creatures (w/cobras for arms), which charge at Godou's group; one of them grabs Shizuka]

Shizuka: [struggles] Let go of me! Let go!

[One of the creature's arm's mouth opens wide and glares at Shizuka; Shizuka gasps in horror]

Godou: [slices the creature in half] Don't you touch my sister!

[The sliced creature disappears]

Shizuka: Big Brother!

[Suddenly, the other creatures grab Erica, Liliana, Ena, Yuri, Hikari, and Lucretia]

Erica: Selene, you ruffian!

Selene: I should say the same about you.

[Suddenly, Godou strikes down the slime creatures w/his Golden Sword, setting the girls free]

Godou: No slime can ever overpower the Golden Sword of Verethragna.

Erica: Grazie, my love. Now for Selene!

Athena: Leave this one to me.

[She fires multiple arrows at Selene, who repels them w/her dark energy]

Selene: Nothing in this world shall live on my account. Not after their actions caused me to lose control over my power. Now that I have full control, I'll use it to get my revenge. And no one has the power to stop me. Not even you, Athena!

Athena: You are a disgrace to all Heretic Gods. And for that, you shall pay with your life!

[She focuses a lot of her energy on an arrow]

Selene: [focuses a lot of energy her right eye] Foolish goddess!

[Athena fires her powered-up arrow at Selene, who releases a massive blast of energy at the arrow, destroying it; the blast then heads toward Athena]

Athena: [gasps] Impossible!

[Selene smirks]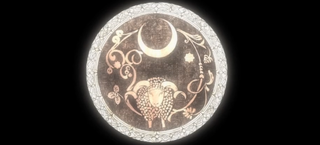 Godou: Athena!

[He jumps into the line of fire and takes a massive blow from the blast]

Athena: Godou Kusanagi!

Lucretia: [gasps] Godou!

Yuri: Godou!

Liliana: Godou!

Ena: Your Majesty!

Hikari and Shizuka: Big Brother!

[Erica is more shocked than the others; as Godou hits the ground, bleeding badly, Erica drops her sword and tears up]

Erica: Please, God, no. Not him.

[She cradles Godou's body in her arms and starts to cry; the other seven girls burst into tears]

Erica: [to the sky] GODOU!!!

[Selene laughs maniacally]

[Cut to the giant battle]

Stelio: [snickers] Well, ACME Crime Net, it appears that Selene has finally brought a painful end to your campione friend.

Alvin: No. It can't be true!

Voban: It is. Godou Kusanagi is dead.

[Splitscreen to each cockpit; the whole gang is devastated; cut to the Flash Formosa's cockpit; Alvin bursts into tears and growls]

Alvin: Guys, let's finish these three off!

[Cut to the Mega Star Borg's cockpit]

Layla: Right! For Godou!

[Cut to the Spider Caesar's cockpit]

Hunter: Corona, we're gonna need the Thunder Formosa for this one.

Corona: Right, love. Platinum Pardosa, mobilize!

[Split-screen to the cockpits of the Flash Formosa, the Thunder Spider, and the Spider Caesar]

Alvin, Corona, and Lumen: Begin Thunder Formosa transformation!

[Cut back outside; the Platinum Pardosa crawls into the scene and combines with the Flash Formosa and the Thunder Spider to form the Thunder Formosa; Corona jumps into the Thunder Formosa's cockpit; the Thunder Formosa faces Stelio]

Aqune: Indigo Paladin, mobilize! Begin Super Spider Caesar transformation!

Voice: Combine!

[The Indigo Paladin enters the scene and combines with the Spider Caesar to form the Super Spider Caesar; the Super Spider Caesar faces Dimitri]

Voice: Super Spider Caesar, ready!

Hunter: You want a fair fight, Dimitri? You got it!

Dimitri: [charges at the Super Spider Caesar w/his sword] You think you're hot crap, huh?!

[He strikes the Super Spider Caesar w/his sword hard; the Super Spider Caesar's eyes glow]

Hunter: Xenon Twin Blades, full power!

[The Super Spider Caesar claps his Xenon Twin Blades together]

Aqune: Xenon Twin Blades!

Hunter, Shadow, Aqune, and Portia: FINAL STRIKE!!

[The Super Spider Caesar bisects Dimitri w/its Xenon Twin Blades, which launch a glowing blade-shaped projectile through Dimitri, electrifying him; Dimitri screams]

Stelio: Dimitri!

[Dimitri falls to the ground, and an explosion is shown]

Stelio: [charges at the Thunder Formosa] Defeating us won't bring your friend back!

[The Thunder Formosa strikes Stelio w/the Thunder Lance]

Stelio: [tosses his sword aside] I don't need some stupid sword to beat you maggots. [grabs the Thunder Formosa by the neck] I'll just rip you apart with my bare hands!

[Suddenly, the Thunder Formosa impales him through the midsection w/its lance]

Stelio: [growls] You lucky dogs.

[He removes the lance from his midsection and tosses the Thunder Formosa to the other machines, hitting them]

Voban: [applauds] Well done, Stelio. You really outdid yourself today. [pats Stelio on the back] You did me proud, son. Let me finish 'em for you. Sturm Und Drang!

[His eyes glow; the Chinese Weather Trio appears and casts a spell on the sky, creating a torrential downpour on the park]

Stelio: Sorry to rain on your parade.

[Bolts of lightning strike the machines hard]

Stelio: Why don't you use your Eye of Sodom to make salt out of 'em?

Voban: It won't work while they're still in the cockpits, and it doesn't work on inanimate objects. But I know what will destroy them. Red Punishment!

[He unleashes flames from the sky at the machines]

Voban: See you in Hell, ACME Crime Net!

Sora: Kaleido Shield!

[The Mega Star Borg's wings form a shield w/all six of its wings; the shield reflects the flames right back at Voban and Stelio at 300%]

Voban: What?! NO!

[He pushes Stelio out of the way and takes the brunt of his own flames; he screams as he gets burned badly]

Stelio: Voban!

[Voban's eyes glow, cancelling out the flames]

Voban: [groans] What's... happening... to me?!

Selene: [from below] Oh, you don't know? The armor I provided for you can be very taxing on a campione. The more power they use against their enemies, the weaker and closer to death they become.

Voban: [growls] You monster!

Stelio: I'll deal with you later, Selene, but right now, I've got an old adversary to deal with!

[He charges at the Thunder Formosa]

[Cut to the Thunder Formosa's cockpit]

Alvin: Stelio Zappas, your reign of tomfoolery is over! Crimson Crossbow!

Corona, Lumen, Sparkle, Chipmunks, and their Battle Spiders: FINAL STRIKE!!

[Outside, the Thunder Formosa fires a flaming phoenix arrow from the crossbow at Stelio, hitting him hard; Stelio screams]

Voban: Stelio...!

Stelio: I've failed you, Voban. Forgive me!

[He falls to the ground, and a massive explosion is shown]

[Cut to the Mega Star Borg's cockpit]

Layla: All right, Voban. You're next!

Mia: MechaBeetle, deploy now!

[Outside, the MechaBeetle enters the scene]

All 10 Gladiators: Combine!

[The Mega Star Borg combines with the MechaBeetle to form the Giga Borg]

Voban: [slowly gets back on his feet] Just one more move will eliminate you! For Stelio!

[He is about to unleash a massive tornado]

Layla: Voban may be evil, but what Selene is doing to him is unforgivable and must be stopped! Giga Borg!

All 10 Gladiators: KALEIDO GIGA BURST!!

[Outside, the Giga Borg fires all its weapons at the Voban, hitting him hard]

Voban: [groans] Was that... a blast... of mercy?

[He falls to the ground, and an explosion is shown]

[Cut back to the ground; after the smoke clears, Voban, Stelio, and Dimitri (all back to normal size and form) all lie unconscious on the ground; the rain continues pelting down]

[Voban gets back on his feet, but is very weak; he notices the nearly-dead Godou]

Voban: [coughs] There's nothing I can do for Kusanagi at this point. The rest is up to you ladies.

Selene: [fires a blast from her right eye at Voban, hitting him] And thus, the old bag dies.

[Voban gets engulfed in a flash of light and vanishes into dust]

Selene: Two campione dead in one day. Now, where was I? Oh, yes. You girls.

[Suddenly, the Spider Riders and Kaleido Gladiators jump into the scene and face her]

Selene: Oh. More mortal maggots. No problem.

Alvin: How dare you kill a friend of ours!

Sora: For such a wanton sin, you'll pay with your life!

Layla, Sora, Rosetta, Marion, May, and Brittany: Mega Armor, activate!

[All six assume Mega Mode]

All six: Mega-Armored Gladiators!

Hunter: Let's take care of her!

[All 18 of them fight her w/their weapons, while Selene constantly resists their advances w/her magic; the girls in Godou's group watch; Yuri and Hikari try to heal Godou w/their healing spell]

Erica: Thanks, you guys. [looks down at Godou] Godou, please stay with me!

Yuri: I don't wanna lose you!

Hikari: Come back, Big Brother!

Lucretia: You can make it!

Shizuka: I don't wanna be an only child. Don't leave me!

Liliana: My love...

Ena: My king...

Athena: [in tears] He took a blow... that was meant for me. Godou Kusanagi,... why?

[One of her tears falls on Godou's face]

[Cut back to the border between life and immortality; Godou walks around; Pandora appears before him]

Pandora: Godou, I saw it all. You risking your life to save a Heretic God.

Godou: I had to. Athena may be a god, but deep down, somewhere inside of her, she has a heart.

Pandora: It's a shame that Duke Voban was unlucky.

Godou: Voban?

Pandora: After your American friends defeated him, Selene killed him.

Godou: No way! But why didn't he use...

Pandora: Otherland's Dragon? He had already used it after he lost his giant battle. And he didn't have enough energy to use it again when Selene killed him. [embraces Godou] But you, my child, still have a chance. I know you can take down Selene, Godou. Just believe in yourself and in your friends.

Godou: But it could take hours for me to awaken with the Ram's powers. My friends and sister will be dead by then!

Pandora: Not this time, it won't. Your unselfish act will surely speed up your revival.

[The sound of the girls calling Godou is heard]

Pandora: Your harem calls to you.

[The sounds of the Spider Riders and Kaleido Gladiators fighting Selene is heard, as well]

Godou: Wait. Is that...?

Pandora: [giggles] Your American friends are fighting Selene for your sake. They won't rest until justice is done.

[Godou pauses for a moment, then smiles]

Godou: Thanks, you guys. I'll take it from here!

Pandora: Good luck, Godou. [gives a thumbs-up signal] Kick some ass!

Godou: Thanks,... Mom.

[Cut back to Central Park; Godou awakens; the girls gasp]

Erica: Godou...! You're... alive?

Shizuka: But... how?

[Erica suddenly has a flashback of when Godou used the power of the Ram to resurrect himself before]

Erica: The Ram!

Godou: That's right.

Yuri: But how did it work so quickly?

Athena: His act of saving me must have sped up the process. [smiles]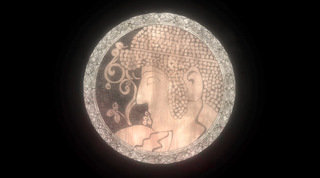 Godou: Erica, Lili, Mariya, Seishuuin, it's time.

[Said four girls nod; Godou pins all four of them to the ground; Godou and Erica share a deep kiss, then shares one with Yuri, then with Liliana, then with Ena]

Shizuka: Whoa! A kiss at a time like this?!

Lucretia: It's called Youth. This gives Godou the power to inject Divine Protection into others, through a kiss.

Hikari: From what my sister told me, Divine Protection gives the kissing partners increased abilities, as well as the strength of a campione.

[After about a minute's worth of kissing, Erica, Liliana, Ena, and Yuri all moan loudly]

All four girls: We love you, Godou!

[After a flash of light, the four girls pant heavily and rub their bellies]

Liliana: That was incredible.

Yuri: So much power.

Ena: I've never felt this much in my life.

Erica: Thank you, Godou. Now, let's go all-out and finish that bitch!

Godou: Right! Athena, you with me?

Athena: All the way.

Shizuka: I'm going, too, Big Brother. I wanna give Selene Hell for what she did to you.

Hikari: Me, too, Big Brother.

Lucretia: Might as well join in. After all, Godou is an inspiration to us all.

[Godou smiles and nods]

[Back at the fight with Selene, Selene unleashes her energy on the Riders and Gladiators]

Layla: Phoenix Shield!

Sora: Angel Shield!

[They shield themselves w/their wings, but Selene's energy pushes them back]

Hunter: Super Spider Cannon!

[The Super Spider Cannon appears]

Corona: Full power!

Spider Riders: FIRE!!

[The cannon fires a massive blast at Selene, who repels it w/the energy from her right eye]

Selene: Your parlor tricks are no match for me. Now for my secret weapon.

[Her right eye glows green; a shining silver blade appears in her hands]

Selene: Behold, the Lunar Blade! [strikes each of the Spider Riders and Gladiators one by one w/her blade] No mortal can withstand its incredible might. Not even the likes of you.

[All 18 of them hit the ground and drop their weapons]

Selene: Well, it's been fun, but alas, all things must end. [points her blade at Alvin] And I'll start with you.

[She approaches Alvin]

Sora: No. Not Alvin.

Brittany: Please.

Alvin: [struggles to grab his blade] No. I can't quit. I won't!

[Suddenly, an arrow strikes Selene in the shoulder; Selene stops and turns around, noticing Godou's group and Athena (from whom the arrow came) approaching]

Alvin: It's Godou!

Layla: He's alive!

Selene: You?! How did you survive?!

Godou: Never underestimate the love between a campione and his harem, Selene.

Erica: The bond between us will never break, not even to the likes of you!

Liliana: And with this bond, we will destroy you!

Ena: No matter what evil you throw at us, we will overcome it!

Yuri: As long as we work together, there's nothing we can't muster!

Hikari: We may have different traits, but we all have the same goal!

Lucretia: And that's the safety of Mother Earth!

Athena: It's time you suffered the same fate as all the Heretic Gods who fell before you.

[Selene stares at Shizuka]

Selene: What about you, child?

Shizuka: I don't know much about what my brother and his girlfriends do, but I do know this, bitch: You are one crazy-ass monster!

Selene: Big talk coming from the godslayer's younger sister. Not to mention, that foul mouth. [unleashes black snakes] DIE!

Brittany: Shizuka, catch!

[She tosses her Mega YumeBlade to Shizuka, who catches it]

Shizuka: Your blade?

[She notices the oncoming snakes]

Shizuka: Oh, right!

[She strikes the snakes down w/Brittany's blade, destroying them]

Shizuka: Thanks, Brittany!

[She charges at Selene and strikes her with the blade]

Selene: Struck by a mere human?!

Shizuka: [tosses the blade back to Brittany] Don't mess with mere humans! That was for my brother!

Godou: That's my sis.

[Shizuka walks up to her brother]

Shizuka: Big Brother, I won't forgive that cowardly bitch for what she did to you. [embraces Godou] You may be a nimrod, but you're still my only brother, and I love you.

Godou: [embraces back] And I, you, Shizuka.

Shizuka: Now finish her.

Godou: All right, girls! Let's go all out!

[He and the other girls charge at Selene]

Erica: [strikes Selene w/her sword] What you did in your time was unforgivable enough!

Liliana: [strikes Selene w/her sword] But when you attempt to kill Godou,...

Ena: [strikes Selene w/her sword] ...you cross the line!

[She tosses her sword to Yuri]

Yuri: You don't deserve the air you breathe!

[She strikes Selene w/Ena's sword, then tosses it back to Ena]

Yuri: I gotta learn to take up swordsmanship one day.

Athena: Jet Black Scythe!

[Said weapon appears in her hands]

Athena: Begone, foul goddess!

[She strikes Selene w/her scythe]

Selene: [grabs her sword and charges at Lucretia] Witch, you're first! Die!

Lucretia: [casts a spell] Flight!

[She gains wings and takes flight, dodging Selene]

Selene: You filthy coward!

Lucretia: Oh, you're one to talk. [casts a spell, gaining a naginata] As the Witch of Sardinia and one of Godou Kusanagi's future mistresses, I cannot allow you, an unrepentant goddess, to win!

[She tosses her naginata at Selene, impaling her through the chest; the naginata vanishes; Selene groans, then growls]

Erica: [casts a Golgatha spell on her sword] Behold!

[Her sword transforms into the Holy Lance of Longinus]

Erica: The Holy Lance of Longinus!

Selene: You're mine, Great Knight!

[She and Erica fight w/their weapons over the next minute]

Selene: As soon as I rid this world of you wads of low-spec trash, my darkness will completely envelop this world!

Erica: I'm not afraid of the dark, and I'm not afraid of you! None of us are! Even in our darkest hour, the fire inside us will burn brightly!

Selene: You're an even bigger fool than I anticipated. Darkness will always outclass light!

Alvin: [charges at Selene] Wrong! Even the smallest of flames will keep our hope alive! [swings his blade, firing a wave of Crimson Energy at Selene] Crimson Flash!

[Selene gets struck by the wave]

Selene: You're too late, you little fool!

Brittany: [charges at Selene] Not if we can still fight! [raises her blade] Mega YumeBlade, Mega Dream Strike!

[She strikes Selene in the back w/her blade]

Hunter: And we never give up! [strikes Selene w/his lance] Lance of Light!

Corona: [fires an arrow at Selene] Arrow of Light!

Aqune: [strikes Selene w/her sword] Violet Strike!

Simon: [strikes Selene w/his lance] Fire Bolt!

Theodore: [strikes Selene w/his mace] Morning Star!

Lumen: [strikes Selene w/his blade] Blade of Light!

Sparkle: [strikes Selene w/her attack] Tornado Swing!

[Selene gets struck by all seven attacks]

Selene: You're all deluded!

Layla: You're so full of yourself! [strikes Selene w/her flaming sword] Mega Phoenix Saber, ignite!

Sora: [strikes Selene w/her blade] Blade of Hope, Angelic Sky Strike!

Rosetta: [strikes Selene w/her partisan] Fairy Partisan, Diabolo Strike!

Marion: [strikes Selene w/her halberd] Hydro Halberd, Ocean Strike!

May: [strikes Selene w/her blade] Demon Blade, Demon Sky Strike!

Mia: [strikes Selene w/her lance] Platinum Lance!

Anna: [strikes Selene w/her baton] Geo Baton!

Sarah: [strikes Selene w/her blade] Lorikeet Flute, Blade Mode!

Pamela: [fires an arrow from her crossbow at Selene] Ivory Crossbow!

[Selene gets struck by all nine attacks]

Selene: Wondrous efforts, but nothing you can do will destroy me! [turns to Godou] As for you, Godou Kusanagi, I killed you once, and I'll kill you again! But this time, it's for good! [focuses energy into her sword] Say hello to Voban for me!

[She screams as she charges in a fit of rage at Godou, who only smiles]

Hikari: [casts a spell] Disaster Purification!

[Just as Selene is about to strike Godou through the chest, Hikari's spell stops Selene in her tracks]

Selene: What's happening?! I can't move!

[The energy in her sword starts to diminish]

Godou: That was you, Hikari?

Hikari: This is for you, Big Brother! My undying loyalty to you is too strong for me to let up against her!

[Her Disaster Purification powers up even further, completely shattering Selene's sword to pieces]

Godou: [pats Hikari on the head] I owe you big time, Hikari.

Hikari: I believe in you, Big Brother. [brings Godou's face close to hers] I know you won't lose. I love you so much.

[She kisses Godou on the lips]

Yuri: [gasps] Hikari!

[Everyone else is surprised]

[Godou's power increases; Hikari releases herself from the kiss, then embraces Godou]

Hikari: Now finish her off.

Godou: Thank you.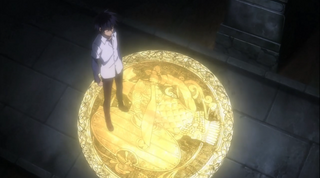 Selene: What's going on here?!

[By the power of Warrior, multiple Golden Swords appear in the sky]

Selene: No!

Godou: Selene, Goddess of the Moon, daughter of Hyperion and Theia, sister of Helios and Eos, mother of Pandia and Ersa,-- She who lost the vision in her real right eye over her obsession of power, driving her to seal herself away in a rare gemstone, but has learned nothing from her imprisonment-- You will never triumph over the godslayer!

[Erica, Yuri, Liliana, and Ena grant Godou their power each through a kiss]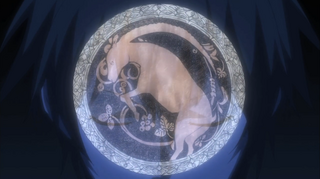 Godou: I call upon that which holds up the heavens and spreads throughout the Earth. That which protects the righteous, I summon you! Show me the proper path, for I am noble and my words are true!

[Selene gets struck by lightning and screams]

[Every Golden Sword points at Selene and strike her hard]

Erica: Holy Lance of Longinus, pierce my enemy and win us this fight! [powers up her lance] For Earth! FOR GODOU!!!

[She tosses her lance at Selene, striking her through the right eye; the gem falls out]

Selene: [screams in pain] I cannot... be defeated! [grabs the gem, then charges at Godou, unleashing the last of her energy at him] If I'm going down, you're coming with me, godslayer!

Godou: [gains his own Golden Sword formed from the Golden Swords in the sky] This is where it all ends, Selene! BE GONE!!

[He screams as he jumps up, diminishing all of Selene's energy, and bisects her hard w/his sword; Selene screams, gets electrified, drops the gem, falls to the ground, and a massive explosion is shown]

Godou: Farewell, Selene.

[The rain stops and the sky clears up; a rainbow appears; the gang cheers; Athena, the Gladiators, and the Spider Riders revert to normal]

Alvin: You did it, Godou!

Godou: Thanks to you, Alvin. You and your team.

[They shake hands]

[Stelio wakes up and gets back on his feet]

Stelio: So, you guys beat Selene, huh? Nice work. Hey, where's Voban?

Godou: He's a goner, Stelio, courtesy of Selene.

Stelio: He's dead? [growls] You jerks! [extracts a gun from his pocket]

Erica: Is that a-- Oh, my God!

Godou: Behind me!

[Shizuka and Hikari hide behind Godou]

Stelio: Voban was like a father to me. I respected him, and he respected me. And what do you do to stop Selene from killing him? Nothing!

Ena: There was nothing we could do. She attacked him instantaneously.

Stelio: Well, I don't buy it. As for this,... [grabs the gem] If I can't have the Eye of Selene, no one can! You're all going down with me!

Liliana: Listen to me, Stelio! Put that gun down now!

Stelio: After your last fight, you're in no condition to stop me! None of you are!

[Suddenly, Dimitri awakens]

Dimitri: [whips out his own gun and points it at Stelio] But I am!

[Stelio turns to his partner]

Stelio: Dimitri?

Dimitri: All I wanted to do was help you get back at ACME for stopping you from getting rich, but that's no reason to try and kill them.

Stelio: What about when you fought alongside me when we were giant?

Dimitri: My intent was to immobilize the enemy, not to kill. You didn't tell me.

Stelio: Because I knew you wouldn't follow along with me if I did.

Dimitri: You used me. All I ever did was possess drugs. You killed five men and kidnapped 13 girls. Some friend you are.

Stelio: And now, traitor, you're gonna be #6.

[He pulls the trigger, but just as he fires at Dimitri, Dimitri pulls the trigger of his own gun, firing at Stelio; both of them hit the ground dead]

Alvin: [sighs] Buttheads.

Shizuka: Well?

Hikari: Are they gone?

Godou: They're both dead. It's okay.

[Shizuka and Hikari sigh]

Erica: [embraces Godou] Are you all right, Godou?

Godou: I'm fine, Erica. As if I were really afraid of that bastard.

Erica: [sighs] That's my man.

[Athena walks up to Stelio's corpse and grabs the Eye of Selene]

Athena: This wretched trinket nearly cost us our whole world. Our beloved campione. [crushes the gem to pieces] Sorry, museum, but there are some exhibits not worth having.

Godou: Thank you, Athena.

Athena: No, Godou. Thank you, for putting your life on the line for me.

[She tackles Godou to the ground and kisses him on the lips]

Athena: [gets back on her feet] That will have to do for your reward. I must be off. Until we meet again, my friends. [giggles; disappears]

Godou: See ya.

[He suddenly collapses; Erica runs up to him and sets him down on her lap]

Erica: Godou.

Shizuka: Is Big Brother okay?

Ena: Don't worry. He's just exhausted. It was a very long battle.

Lucretia: He'll be fine.

Shizuka: That's good to know. [turns to Hikari] By the way, half-pint, was it really necessary for you to kiss my brother, ON THE LIPS?! He's 18! You're barely 14!

Hikari: It was a good-luck kiss. Plus, it boosted his power a lot.

Yuri: Now, now, girls. Cut the arguing. [walks up to her sister] Hikari, I know you love Godou as much as I do, but you gotta take it easy around here. Some people might get the wrong idea.

Hikari: Don't worry, sis. It was just a kiss.

Yuri: I understand. [embraces her sister] Look, I'm worried about you. I don't want anything bad to happen to you like what happened with Sun Wukong.

Hikari: Sis...

Erica: [in her mind] Godou, no matter where you are, you never give in to your enemies. Selene would never have learned-- Love conquers all. I love you, Godou.

[Cut back to the Nickar; Prescott confronts Mechike and the injured LN]

Prescott: I ask you to bring me the Eye of Selene, and you let those thieves escape with it?

LN: I was ambushed. There was nothing I could do. Besides, you wanted Selene to be released, didn't you?

Prescott: Yes, but in the end, the only casualties in that fight, other than Selene herself, were the thieves. And you, Mechike, are also at fault. Your plan failed to rid this world of ACME Crime Net.

Mechike: I regret this plan had failed, my lord. But my next plan won't.

Prescott: Savage, Temper, lock these two in the brig for one week!

Savage and Temper: Yes, sir.

[They grab Mechike and LN and take them away]

Prescott: ACME Crime Net, you'll pay dearly. [clenches his fist] You and any guest you have by your side.

[132 Madison Street, 5:34pm]

[The whole gang, joined by Bambi, has a celebratory dinner]

Godou: So, what's gonna happen to the damage done underground?

Simon: All of Dimitri Bodak's assets are gonna cover it. That includes his house, his cars, everything he owned. Plus, since he has no living relatives, his boss at the bank filed an insurance claim and got $5,000,000 in life insurance.

Mia: Actually, thanks to double indemnity, it's 10,000,000. All that and the assets are more than enough to pay off the damage underground and the hole in the vault.

Layla: The DA also told us that the police are investigating one John Dukakis, the man who brought the gem into the bank.

Sora: If he hadn't brought it into New York in the first place, Selene would never have been set free.

Lucretia: What about the museum exhibit?

Pamela: We told them everything. They understood. The exhibit has been cancelled.

May: Athena destroying the gem was pretty much the right thing to do.

Rosetta: God knows what Prescott Vorstein would've done with it.

Shizuka: Well, good riddance.

Hikari: I'm just glad all that is over.

Marion: Anyway, enough about the case. Cousin Erica, I'm curious. What have you been up to last night? I saw you, Miss Mariya, Ena, Lili, and Godou come out of the storage room this morning. [whispers into Erica's ear] You looked pretty sweaty.

Erica: You'll find out, Marion, in about nine months.

[She, Liliana, Ena, and Yuri wink at Godou]

Bambi: I think it's easy to guess.

[The gang laughs, then continues their dinner and conversation]

[FINAL NOTE:
One month later, John Dukakis was charged with reckless endangerment in the first degree and criminal possession of a dangerous weapon in the first degree.
He was later tried and convicted of all charges and is serving the maximum sentence in solitary lockdown at Attica Correctional Facility for each count to be served consecutively.
Following the deaths of Stelio Zappas and Dimitri Bodak, their case was marked "closed".]





[Now, back to Carli Mosier]

Carli: Hi, it's me again, Carli Mosier, the voice of Ena Seishuuin. Now, in the story, there have been cases of burglary and attempted burglary. As the Chipmunks have learned after two attempts, the best thing to do when you stay at a new dwelling is rig a security system. Their security system was very complex, but that's because they didn't have a locksmith yet. Here's a few tips to keep your home safe in case of an actual burglary in real life. Always lock your doors and windows, keep areas around your property well-lit. If you see unusual or suspicious activity, report it. And never open a door to strangers. For more information, you can contact your local crime prevention unit, or check out some of their websites. Thank you for watching, and enjoy the previews.

[Previews from future side-fics are shown]

Narrator: Coming soon, new machines...

Pamela: MechaEagle, transform!

Hunter: Ultra Spider Caesar!

Corona: Ninja Formosa, ready!

Narrator: New Pokémon...

Ash: Let's go, Litten!

[Litten screeches]

Alvin: Ready, Wimpod?

Wimpod: Pod!

Narrator: New Z-Moves,...

Alvin: Devastating Drake!

Simon: Bloom Doom!

Theodore: Hydro Vortex!

Narrator: New Duel Monsters...

Alvin: Red-Eyes Slash Dragon!

Simon: Ready to take on my new Cyber Dragon deck?!

Narrator: New rules to Duel Monsters...

Alvin: Time to link up! I Link-summon Link Spider!

Narrator: New friends...

Eris: America's just purr-rect!

Yuya: Time to swing into action!

Narrator: New enemies...

Roget: I'm at your service.

Mechike: Behold, the Treacherous Ten!

Narrator: New superheroes...

Cosmo Cats: Cosmo Cats, we are united!

Narrator: ...and new power-ups.

Spider Riders: Super Spider Riders, Ultra Mode!

Pamela: Mega-Armored Gladiator!

Narrator: Plus, more cases...

Alex: He pleads to the murder and gives us the guy who ordered it, he serves 20 to life.

Narrator: More romance...

Tyler: Mallory McNabb just asked me out to lunch.

Lumen: Noia, will you be my bride?

Sarah: Kalos proposed!

Narrator: More Pokémon battles...

Theodore: Frogadier, Hydro Pump!

Ash: Pikachu, Gigavolt Havoc!

Narrator: More duels...

Yugi: I special-summon Valkyrion the Magna Warrior!

Alvin: Berserkion the Electromagna Warrior!

Narrator: More crossovers...

Asuka: Let's do this, ninjas!

Mikey: Cowabunga!

Shane: Power of Air!

Brody: Ninja Rangers, fear no danger!

Narrator: And next summer, a crossover unlike any other.

[25 Power Rangers enter a battle scene]

Hunter: No way!

Corona: I don't believe it!

Aqune: Who are they?!

Alvin: It's the Power Rangers!

Narrator: And this fall, ACME's newest bundle of joy.

[Cut to a newborn baby]

Hunter: So beautiful.

Narrator: And a heartfelt goodbye from a veteran detective.

Sarah: I feel as if my time has come.

Narrator: Stay tuned for a whole new season of ACME Crime Net.

Levi: Say cheeseburger!

Brittany: Cheeseburger!
Last edited by TVLubber (5/15/2018 2:17 pm)