[The audience cheers and applauds]
 
Buttons: The loot is gone! The chase is on!

Rusty: But have no fear, our special Gumshoe families are here! On…
 
Cubapella: Where in the World is.... Carmen Sandiego?
 
[They do the intro, now to the Gumshoes]
 
Chief: And one of these teams could find her!
 
Bearbette: He enjoys playing baseball and loves reading comics. While his father is a air condition mechanic. From East Meadow, New York, please welcome Chris and Steve Stahler!
 
Frisky: She enjoys baton twirling and figure skating. While her mother is a baton twirling insturctor. From the Bronx, please welcome Makenzie and Beverly Flynn!
 
Buttons: He loves to be a chef just like her mother. From Port Jervis, New York, say hello to Vince and Kathleen Carnie!
 
[Now, to the alley Jon enters and greets the cubs and their folks]
 
Chief: Now, here's the man in charge of the investigation, Jonathan Mann!
 
[Jon enters HQ; cheers and applause]
 
Jon: Yes! Yes! Yes! [greets the teams] Hello, family Gumshoes! Staher, Flynn, and Carnie familes! And say hello to…
 
Cubapella: Cubapella!
 
[Applause]
 
Jon: Now, we're taping on the set of our semi-weekly version of this show because the Chucklewood set which is down the hall from our stage is being revamped to get ready for filming the feature film. After our next show, we will relax for a month and a half for filming which includes filming some scenes in Pittsburgh. So our episodes will resume in the fall. All right, families, we're gonna start you off with 250 ACME Crime Bucks. Each time you give me a correct answer, I will give you an 50 more. If all three of you teams nail it, I will make it 100. The two teams with the high scores at the end of this round will then proceed to the next round and the one team that catches Carmen Sandiego will win a trip to anywhere in North America plus $50,000 and a shot at a brand new car!
 
[Applause]
 
Jon: Okay, Chief. Who are we after?
 
[Now, to the Chief]
 
Chief: Gumshoes, this is Patty Larceny.
 
Rockapella: P-P-P-Patty! [scats] Patty Larceny!

Chief: She's the only criminal who ever polished an apple.
Her last know whereabouts: The internet.
 
We all know the pound sign means number on your telephone. But on the internet, we call the pound sign "hashtag"
 
#CarmenSandiego
 
A hashtag is a type of label or metadata tag used on social network and microblogging services which makes it easier for users to find messages with a specific theme or content. Users can create hashtags in front of a word or unspaced phrase, either in the main text of a message or at the end. For example: #VigilaceDedicationCourage. Searching for that hashtag will then present each message that has been tagged with it. Today, hashtags are found on YouTube, Twitter, Facebook, Google +, Instagram, and hundreds of other social media sites. Or it #hasuntiltoday! When Patty Larceny warped into the internet with the help of Kneemoi, she stole the beloved social media symbol away! Now, Patty's thinking of using the hashtag as a special project for summer school. Gumshoes, you must #arrest the social media fiend, and restore the hashtag, and then #CaptureCarmenSandiego! Now, here's what we know so far: ACME Social Media Net has tracked Patty back in time to the year Facebook premiered on the internet. by Mark Zuckerberg with his Harvard College roommates and fellow students Eduardo Saverin, Andrew McCollum, Dustin Moskovitz, and Chris Hughes. The founders had initially limited the website's membership to Harvard students, but later expanded it to higher education institutions in the Boston area, the Ivy League, and Stanford University and then later expanded it worldwide. It was also the year that one of my favorite TV show's Friends went off the air. Boy, I really wished I can enjoy coffee at Central Perk. Jon?
 
[Back to HQ]
 
Jon: Thanks, Chief. Okay, teams. Name the year. Was it 2002, 2003, or 2004? Remember the clues we just heard: Facebook was launched, and the TV show Friends went off the air.
 
[The Gumshoes are locked in]
 
Jon: Let's hear from you, Chris.
 
Chris: 2004.
 
Jon: 2004. Makenzie?
 
Makenzie: 2004.
 
Jon: Same thing. Vince?
 
Vince: 2004.
 
Jon: Everyone said the same thing, and everyone is right!
 
[Applause]
 
Jon: That takes all three of you families to 350. For our next clue, it is time to check the World Band Radio.
 
[Now, to the World Band Radio]
 
Radio announcer: [in Chinese] 侯佩岑小姐最后一次出现在我们的河流之一,这恰好是世界第三大河游泳。它来自所谓各拉丹冬峰白雪覆盖的山。侯佩岑刚刚在武汉市的日有人游泳可能是她唯一的日期。注意:她穿着一件黄色圆点比基尼。
 
[Translation: Miss Patty was last seen swimming in one of our rivers which happens to be the third longest river in the world. It comes from a snow covered mountain called Geladaindong Peak. Patty just recently dated someone in the city of Wuhan as swimming might be her only date. Caution: She wears an yellow polka dot bikini.]
 
[Laughter!]
 
[Back to HQ]
 
Jon: Okay, Gumshoes. Name the river. Is it Yangtze, Hai, or Yellow? Remember the information we heard from the transmission: Third longest river in the world, Geladindong Peak, and flowing through the city of Wuhan. And the official for this transmission is Chinese.
 
[The Gumshoe folks are locked in]
 
Jon: What did you say Steve?
 
Steve: I said Yellow.
 
Jon: Yellow. Beverly?
 
Beverly: I said Hai.
 
Jon: Hai. Kathleen?
 
Kathleen: I said Yangtze.
 
Jon: Yangtze. Three separate answers but the 50 Crime Bucks goes to the one family who answered Yangtze! It's the Carnies!
 
[Applause]
 
Jon: So that takes the Carnies to 400, all other teams stay at 350. Now we have heard that Patty has swam to Shanghai.
 
[Lighting flashes]
 
Jon: Okay, that can only mean one thing. It's time for the Lighting Round. All of the questions have to do with Shanghai, which is Patty's most recent known whereabouts. Each correct answer is worth 25 Crime Bucks. The one team that gets all four questions right will win $5,000.
 
[Applause]
 
Jon: So, Gumshoes you will go first on ringing in, then the parents will take a turn. Here comes the first one. Retired NBA Player Yao Ming is born in Shanghai. What team did he play for? The LA Lakers, the Houston Rockets, or the Dallas Mavericks?
 
[Nobody rings in]
 
Jon: The LA Lakers, the Houston Rockets, or the Dallas Mavericks?
 
[Still, nobody rings in]
 
[BUZZER!]
 
Jon: It was the Houston Rockets. Nobody got that one. So switch.
 
[The teammates switch]
 
Jon: Take a look at the screen for a visual question.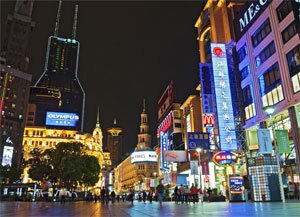 Jon: Seen here is the main shopping street of Shanghai, and is one of the world's busiest shopping streets. Is this street The Bund, Duolun Road, or Nanjing Road?
 
[Beverly rings in]
 
Jon: Beverly?
 
Beverly: Nanjing Road.
 
[Bells sound out]
 
Jon: That's it. 25 for you. Switch.
 
[The teammates switch]
 
Jon: The East, South, or North China Seas. Which of these seas is bounded in Shanghai?
 
[Makenzie rings in]
 
Jon: Makenzie?
 
Makenzie: East.
 
[Bells sound out]
 
[Applause]
 
Jon: Right. Switch one more time.
 
[The teammates switch]
 
Jon: A district refers to its historic position as "The East Bank" of the Huangpu River, which flows through central Shanghai. You can find Disney's newest resort in Shanghai. Is the district Pudong, Putuo, or Fengxian?
 
[Steve rings in]
 
Jon: Steve?
 
Steve: Pudong.
 
[Bells sound out]
 
Jon: Yes it is. At the end of the Lighting Round, the Flynn Family goes to 450, the Stahlers go to 400 and a tie with the Carnies. Now for---
 
[Chatter is heard coming from the alley]
 
Jon: Wait a minute! It's not time for the Word on the Street! I got to find out what's going on!
 
[He enters the alley where Cubapella with Skeeter, and Freddie await reading scripts for the film]
 
Skeeter: What's up, Cubettes?
 
Bearbette: We're going on a little picnic.
 
Skeeter: Picnic, huh? All that racing with Jefferson sure gives a guy an appetite. I suppose you like some company.

Jon: Hey, folks. Preparing for the film?
 
Frisky: Uh-huh. The script came in today. And we are doing our first read through of The Treasure of Chucklewood.
 
Bearbette: It takes a lot of practice to memorize the lines.
 
Buttons: We are spending countless number of hours studying and understanding what and when to say.
 
Rusty: Right, Buttons. The film itself is about a misunderstanding causes Buttons and I to think that we'll be sent to a zoo because the park is closing down, and we decide to run away.  The film will star the majority of us characters from the show. Plus special guest stars: The wolves you met from show 203 of the New Adventures, Jefferson the Eagle, and Jester the Beaver from you may remember from The Adventure Machine plus appearances in Shows 203 and 208.
 
Buttons: It will also feature Ranger Jones' friend Ranger Walter Hardwick and an all new critter named Zachary.
 
Freddie: It's gonna be a lot of fun!
 
[A hand hands Jon a script]
 
Jon: Oh, what's this? A script. It's for the contest. [reads the script] Each time you watch the show, write down what got stolen and from where. When you collected five loots and locations, put them on a postcard along with your name and address and send it to…
 

 


 
ACME Crime Net
P.O Box 4300
New York, NY 10163
Or enter online at PBS.org
 
Everyday we'll pick five people who's list are correct and send them each an ACME Travel Kit. Here's who won today.
 
WINNERS:
 
Symone Brushman
Colorado Springs, CO

Greg Brown
Brooklyn, NY


Paul Takeman
Alvin, TX

Charlotte Woods
Augusta, GA


Tyler Nane
Reno, NV



Jon: Congratuations to the winners!
 
Rusty: [reads the script] Well, this is it. [weary] Goodbye, Chucklewood Park.
 
Buttons: Yeah. Bye. But, Rusty, we're not gonna leave forever. Are we?

Rusty: Nah, just till we grow up and aren't cubs anymore.
 
Frisky: I guess, Jon, you got to go back on the case. It's time for us to concentrate on read-throughs.
 
Jon: Yes, ma'am. See you later. [exits HQ]